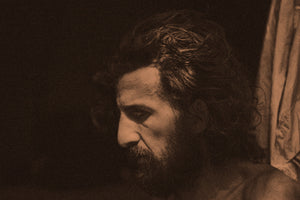 Colorado Trail FKT field notes
(Fastest Known) Time
"Time is the substance I am made of. Time is a river which sweeps me along, but I am the river; it is a tiger which destroys me, but I am the tiger; it is a fire which consumes me, but I am the fire." - Jorge Luis Borges
"It is we who are passing when we say time passes..." - Henri Bergson
I'm pissing in the bathroom of a running store in Durango, killing some of the time I have waiting for the employee to be available to assist me. Mike's feet are swelling from the 300-something miles he's racked up at this point so I need to buy shoes damn near a size-and-a-half larger from his normal size to provide some relief. A poster of Jack Kerouac's face with an abridged quote from On the Road hangs over the toilet: "The only people for me are the mad ones, the ones who are mad to live, mad to talk, mad to be saved, desirous of everything at the same time, the ones who never yawn or say a commonplace thing, but burn, burn, burn like fabulous yellow roman candles exploding like spiders across the stars..." I like the quote. I wonder what this has to do with running or runners though. Remi is waiting in the sprinter van outside. We both wait for any updates from the rest of the crew on Mike's whereabouts and status, who are waiting for Mike at the next crew accessible point near Silverton. In essence, this whole Colorado Trail FKT attempt is comprised of a series of waitings at various locations.
The concept of waiting may seem to imply a state of inactivity but I think you'll see momentarily (if you wait) that waiting is everything but inactive. All of life as we define it, claim to know it and experience it happens in waiting. We are because we wait. If life is cast through a defined stage of philosophy, the idea of waiting has a top place. From the activity of prayers which we address to some God or higher power to acts of selfless love, waiting holds the extreme value as a connecting link or a consequence of success and end.
In Being and Nothingness, Jean-Paul Sartre writes, "Our life is only a long waiting: first a waiting for the realization of our ends (to be engaged in an undertaking is to wait for its outcome) and especially a waiting for ourselves (even if this undertaking is realized, even if I am able to make myself loved, to obtain this distinction, this favor, it remains for me to determine the place, the meaning, and the value of this very enterprise in my life). This does not stem from a contingent lack in human 'nature,' from a nervousness which would prevent us from limiting ourselves to the present and which could be corrected by practice, but rather from the very nature of the for-itself which 'is' to the extent that it temporalizes itself. Thus it is necessary to consider our life as being made up not only of waitings but of waitings which themselves wait for waitings. There we have the very structure of selfness: to be oneself is to come to oneself."
From a very young age, we are taught to wait. In school, giant clocks decorate the walls of every room; bells ring and demarcate periods of time, conditioning our behaviors in those windows of time. We wait to buy our first legal pack of cigarettes and drink. We wait in lines. We wait for the drugs to kick in. We wait for food while being waited on. We wait to get sick. We wait for things to get better. We wait for our shift to end. We wait to find true love. We wait for just a couple more years to have enough money saved to finally leave that job that was just a means to an end, knowing damn well that that money is just more time waiting to be spent. In Colorado, Moe, Remi, Adam, Maddi, Larz, Jim, myself and yes, even Mike, are all waiting.
When Sartre says the structure of selfness is to come to oneself, he is saying that we define ourselves by how we wait and what we wait for. The moment we're born, we are waiting — for childhood, for adolescence, for adulthood, for death. Our very structure is waiting. We never stop waiting. Our accomplishments and accolades, as well as our failures and defeats, are built upon how we wait within this particularized notion of time. We embarked on this journey to wait and see if Mike could start near Denver and wait the least amount of time that has been waited while running the Colorado Trail all the way to Durango via the western Collegiate peaks. Waiting is not inactivity — waiting is activity.
By this point here in Durango, where I will flush the toilet, pay for these shoes, and hop back into the sprinter with two fresh pairs of big ass shoes and shortly receive a text from Mike's partner Maddi that he has decided to stop for good, shit has been very far from smooth sailing. And most of that has nothing to do with Mike's actual running. As his attempt unfolded, the differences amongst all of us — in how we wait and what we are waiting for — bubbled to the surface and the niceties of social decorum amongst strangers has disintegrated. Every gap of waiting between the moments we get to see Mike is palpably full of the pressure of time. And as we are all distinctly taught how to deal with this pressure of time, with waiting, it becomes apparent that our crew is not a singular unit with singular aims, but a multitudinous and diverse entity with different and often incompatible aims — but all under the guise of the singular purpose of serving Mike. And this is too much for him to bear, much more so than the running.
Duration—or time—is so integral to our human experience that fully unpacking it means going beyond mere accounts of clocks or of even psychological perceptions. Time is intimately linked to the bedrock of what it means to experience the world. It is the essence of human being and hence of being itself. In running, time begins to lose itself. The body is thrown into a state of such intense mechanical repetition, we are able to lose ourselves. Time (as defined by science) doesn't matter. While there may be a beginning and an end, most of us don't run to reach a destination. In this way, running becomes a powerful life tool to remove the immense pressure of scientific time that we've all been duped into agreeing upon following. 397 miles into the attempt, this is no longer what running is for Mike. Running instead has become directly correlated to the pressure of linear time and is taking a toll on his friends, his crew, his partner, and even his dog Dio. In his own words: "Running is a pure life awakening endeavor until it is not. Suffering can be enlightening until it is not. Putting others through negative experiences to build yourself up is never excusable."
So Mike calls it at mile 397ish, near his good friend Jim's house in Silverton. His decision immediately provides everyone with a strong sense of relief. Even Dio's mood instantaneously changes from timid distrust to boisterous and confident joy. But in the wake of this relief rings a twang of unsettled discontent. Had Mike successfully finished the trail, all of the drama, the strife, and the misery would be absolved of the toll it has taken on us. It is the end we imagined, set for ourselves and by which we defined our actions and behaviors. But now we are left with the question: what are we waiting for? What were we waiting for? How were we waiting?
To be clear, I have no regrets. The near-80 miles or whatever I shared with Mike, mostly in the heart of darkness, are ones I will never forget and feel privileged to have been able to experience. I walked away from this journey with only positive things studding my heart and mind. But I can't know if everyone else would say the same. I can't help but feel like that might not be the case. But alas, I can only write about my own experience and wouldn't dare to suppose to know anything of what it was like for Mike or anybody else. I definitely grew a whole lot from that experience, though.
The following are necessarily abridged versions of what happened on the 6 days we spent out on the Colorado Trail. Days 1-4 are proper field notes, written either the evening of the day or shortly thereafter. Days 5 and 6 were when shit started to really hit the fan and quite frankly the idea of writing anything about what was completely outside my mind. As such, please anticipate stylistic and qualitative inconsistency. But I think it's best to leave it as raw and visceral as possible. Furthermore, Mike wrote some words of his own that he posted on his Instagram about his feelings toward the experience that I have placed at the end of all of this.
And you might be waiting for me to circle back and tie in how waiting has anything to do with any of this shit, or anything at all...
Colorado Trail Field Notes
DAY 1
Day 1 both did and did not go as planned.
Segments 1 and 2 were very hot and exposed. Mike had his water filtration system with him but water sources were less reliable than expected. The combination of heat and insufficient hydration early on negatively impacted his appetite and made it hard for him to get in calories.
By about mile 40, he was starting to feel the effects of this and took a moment at Rolling Creek Trailhead. As much as we encouraged him to eat, food was still difficult with his lack of appetite. He questioned the prospect of maintaining record pace for the day, noting that this was the slowest 40 miles he'd ever run in his life. But he finished with a glimmer of hope, saying something to the effect of, "But I'll keep going. I'm the best at feeling like shit. All my success in ultrarunning isn't due to my talent as a runner, it's because I'm the best at feeling like this. No one is better than me at feeling like shit."
As the sun set and temperatures dropped over Segment 4, Mike came back to life and was able to eat the food we packed for him in his vest. By the time we saw him at Long Gulch, he was hammering.
Mike covered the 71.7 miles that were planned. Even if it was slower than expected, he's still on pace and things are looking up.
DAY 2
Mike got a little under three hours of sleep and set off around 6:45am.
Day 2 began with Segment 6, which is 32.7 miles and the longest segment on The Colorado Trail — yet this would be the "easiest" segment of the day. There are several access points along this segment which made it possible to aid him three times before Segment 7, which is where the CT starts to enter gnarly terrain.
The crew split to aid Mike at two separate points along Segment 6 before rejoining right before Gold Hill Trailhead, which is where the rest of the day would be climbing, quad-pounding descents and high altitude. Mike cruised through Segment 6, the only thing weighing him down being the oppressive sun and heat.
For Segment 7, Mike mentioned it would be nice to have company (though Mike will never actually specially request pacing) as it was going to be "pretty gnarly." Adam T. paced a solid chunk the evening before and wanted to conserve energy for any future pacing so Adam V. geared up. As Adam V and Mike entered the alpine above 12,000 feet, during their last couple hundred feet of climbing up to ridge line of Tenmile Range, Mike turned to Adam—who had never been at this high of altitude—and noticed his labored breathing:
M: Sucks, huh?
A: Fuck yeah.
M: Welcome to my fucked up life. 18 hours a day of this shit.
They traversed the ridge and hammered down the 3,000 foot descent to finish Segment 7.
Mike hit half of Segment 8 by himself in the pitch darkness before deciding to try and get some sleep at a dirt lot where the crew awaited him near Cataract Falls.
DAY 3
Somehow, Mike is looking stronger as each day passes — which is hard to understand because as each day passes the terrain gets more difficult and obviously the mileage on his body and mind increases. But as he told me once, "Pain isn't real. Suffering is an illusion. Get swami 🖖."
That said, Mike put down about 60 miles yesterday and isn't satisfied. He wants to keep pushing the pace today and make up for the lost mileage based on his goals for the Colorado Trail.
Mike made it to mile 193 at Sheep Gulch last night (or this morning) a little before 2 am to cap off Day 3.
He woke up this morning after finally getting some sleep and set out around 6:50am. He's now officially into the Collegiate West.
Get swami 🖖
DAY 4
Mike would try to finish getting through the Collegiate West on Day 4, which very few runners choose to run, and we'd soon learn why.
His pace understandably slowed as the terrain is essentially un-runnable: massive climbs and descents on super technical terrain above 12,000 feet.
Crew access points along the Collegiate West are scant, at best requiring drives over extremely undeveloped roads and at worst necessitating an off-road capable vehicle.
Superhero crew member Larz — in order to access Mike and break up CW02 from being a 25.9 mile section with over 6,000 feet of climbing — drove his dirt bike through waist deep water at Texas Creek to meet him at around 18 miles in, managing to get him some much needed aid. This helped Mike make it to Cottonwood Pass in good time and spirits.
From here on out, everything began to unravel. The route we took to Tin Cup Pass cost us over an hour and a half of wasted time and left Mike and pacer Adam T. stranded, out of water and nutrition for over 20 minutes in what was the start of a cold night. Luckily, Larz was able to take his dirt bike up to them.
Next, the rest of the crew went to meet Mike at Hancock Pass (about 245 miles in). When we got there, the access point was poorly marked and we hiked miles into the dark to finally find him on the trail, two miles after where we were supposed to meet him. He was the lowest we had ever seen him, wearing random gear from the lack of proper van aid, and collapsed on the trail next to us.
The rest of the evening continued in this fashion, to the point that when he left Boss Creek to push himself to Monarch Pass — nearly the end of the Collegiate West — we all tried to find any place with the remotest service to be able to make sure the dot on the spot tracker didn't stop moving.
Mike rolled into Monarch Pass around 5am, looking like a shell of his former self, barely lucid, with only enough energy to greet his girlfriend and champion crew member Maddi and get into their van.
Collegiate West was the Collegiate Worst.
DAY 5
The stress of the day before is felt as a severe lack of sleep and interpersonal frustration. The three sprinter vans—one with Maddi, one with Larz and the other with myself, Remi, Moe and Adam—feel like three distant planets. At this point, our van of crew is at a loss with how to best connect and communicate with the other neighboring planets, and we feel truly like aliens when it comes to caring for Mike: we are the least well-equipped — from the vantage point of resources, sure, but mostly from that of intimate familiarity and knowing Mike. Once the door of the van with Mike and Maddi swings open, I tell Maddi and Larz about this and acknowledge that we feel like the weakest link and want to do whatever it takes to best assist both Mike and them.
As we all prep for aiding Mike in whichever way we can, Maddi very kindly asks me if I can run with Mike on this next section. Seeing that running is one thing I can't possibly fuck up, I very happily oblige. I load up on Snickers bars at the Monarch Pass store and meet Mike to head up the dirt path that begins this 13ish mile segment.
During this segment, I know one of Mike's favorite records is The Shape of Punk to Come by Refused, so I play it on my phone for us. As he listens, he reminisces to me about the significance of the album, how it shaped his mind, attitude and outlook in a very meaningful way when he was younger. He describes the music scene in Prescott and tells me about how he and his friends were involved and engaged with it. It elucidates a lot for me and helps me contextualize our own kindredness.
About halfway in, we reach a vista with a view of the Collegiate Peaks. Mike holds up his middle fingers and loudly proclaims FUCK YOU. He tells me the 28 hours he spent running the Collegiate West was one of the hardest and most nightmarish experiences of his life. I've been needing to pee badly at this point, so I go ahead and piss at them on his behalf.
This segment runs very smoothly and we arrive at Sargents Mesa in good spirits. Larz — van chef extraordinaire — has delicious breakfast sandwiches (toasted pretzel bread, crispy bacon, tomato and fried egg) waiting for us. I offer to continue with him but he says he would much prefer the company in the dark, if it's either or. So instead, the crew splits here. Moe, Remi, Adam and myself head to the Lujan Creek Road Trail Access, where we end up waiting for 5 hours or so before hearing that we should instead rendezvous with them at CO Hwy 114.
By the time we get to CO Hwy 114, it's dark and we try to get in a couple hours of sleep. The wake up knock on the sprinter van door means Mike is getting ready to head back out and I need to get ready to pace. I gear up, flash a thumbs up and stupid smile at Moe, and head off with Mike into the night.
DAY 6
Mike and I roll into Saguache Park Road after sunrise. After we get there, he tries to sleep for a little bit.
Today is complicated. I didn't know until about a week out whether or not the attempt was going to happen with certainty, so the sprinter van we rented needs to be returned today, as it's unavailable for any additional days. So while Mike and I were running, Remi was driving the van all the way back to Denver to return it, rent a new cargo van, and plans to relink with us in the small town of Creed near the end of Segment 20, San Luis Pass, later this afternoon.
So Mike goes into his van to attempt sleep. Our sprinter is gone so Moe and Adam are sleeping in Adam's sedan. Mike's friend Jim has joined us at this point and is asleep in the back of his pickup. With nowhere else to go after pacing, I quietly open the door to his Tacoma and sit in the front seat.
Mike reemerges from the van about 30 minutes later. His hips have been seizing something fierce whenever he tries to sleep and prevents him from getting any actual rest. So he says fuck it and is back up. Maddi packs his vest with water and food and he and his dog Dio head off on the next 13.7 mile segment to Eddiesville. Because of how the roads are planned in, throughout, and around the mountains, this next spot is damn near 3 hours away by car. So Moe joins Maddi in their van to meet Mike there while me and Adam head into Gunnison to restock water and other provisions before driving the 2.5 hours it takes to get to the town of Creed, for the end of Segment 20 — San Luis Pass.
Larz reaches Mike at San Luis Pass via his dirt bike, which at this point has taken some serious damage and is dripping oil. He reports to us that Mike may not have adequate battery power for his headlamp, so Adam is tasked to hurry to the next crew access point — Spring Creek Pass Trailhead — and hop on his mountain bike with batteries and bike the segment in reverse until he connects with Mike.
At this point, Remi has come back so Moe and myself hop into the new cargo van and our little three planet solar system is back into place. We all orbit on over to Spring Creek Pass, where we come up with a game plan before trying to catch some sleep and hope that Mike comes in beaming light — actually and figuratively.
I will have to run with Mike on this next segment, which is 17.2 miles and reaches the highest point of the Colorado Trail (13,271 feet) and ends at a completely inaccessible (for us, with our vehicular setups) 4x4 road, Carson Saddle. So the plan becomes that once I get there, I will need to run down the 5 mile road to the parking area where Jim and Remi will be waiting for me after I finish this segment. Furthermore, Larz will hike up the 5 mile road to post up with sleeping bags and provisions and wait for Mike and I to roll in before I head down and Mike tries to sleep a bit before starting Day 7.
After about 1.5 hours of sleep, I get the wake up knock from Maddi on the van door and prepare for this next part in the dark. To be honest, I'm a bit scared. As a kid, my parents once drove me and my sister up to Pike's Peak and all I did was just throw up incrementally every thousand feet we climbed. So approaching a similar altitude while running and in the dark is something that intimidates me. Especially on no sleep. But anytime I feel badly about what I'm tasked with, I just remind myself that the crazy motherfucker I'm pacing is tasked with running the whole goddamn Colorado Trail and I calm myself and focus on gearing up. Moe gives me a lovely pep talk to snap me out of it and helps me pack my vest and make sure I'll be warm enough. Staying pretty much above 12,000 feet the entire time and going above 13,000, it's going to be fucking freezing — I am warned.
I stumble out of the van with the warmest shit I've got, along with Moe's down jacket, and put on as positive a mood as I can and stand by Mike and Maddi's van, waiting. When Mike comes out, he says no words and wraps his arms around me. I hug him back, realizing this shit is about to probably suck a lot of ass and also feel very touched by the whole thing. And with that, we walk through the pitch black parking lot and head up the trail.
For the sake of space, I won't go into all of what this segment was. But it was cold, miserable, slow, full of micro side-of-the-trail naps, and long. It took us 6 hours and 15 minutes to traverse that 17.2 miles. We were both wearing tights, base layers, windbreakers and puffy jackets and were still freezing even while climbing up this dark-veiled mountain. The sunrise illuminated the alpine with such awesome beauty but it felt oppressive and unwelcome in my state of mind. Throughout this segment, Mike was telling me in a very real way that he was unsure if he could do this. The Colorado Trail, is of course what he meant, but in his sleep-deprived stumbling, it really felt like he might not even be able to get through the segment. In this way, the cold was a great motivator to keep on moving — just make it Larz, let's just make it to Larz.
I've never been so stoked to see someone in a sleeping bag on a Tyvek sheet in my life. Larz had another bag waiting for Mike and Mike crawled into it to get some sleep. Before I began down the 4x4 road, Larz told me to be careful of a moose. Sure enough, he was waiting for me about 50 yards down the road, standing right in the middle of it. After waiting for the longest 10 minutes of my life for this moose to get the hell out of my way, I ran another hour down the road to make it to Remi and Jim.
DAY 7
Day 7 is when I'm pissing at the running store. It's where we go through Durango and I try to get some shoes for Mike before realizing he's decided to call it off. There isn't really a whole lot to say. After Mike quits at Stony Pass, we all head over to Jim's house in Silverton. We buy a bunch of pizzas and salads, Mike sleeps in one of Jim's beds, and we have some wine and mezcal. I take one of the most transcendental showers of my whole life, where more than just filth washes away from me. Mike emerges to share some words and drink with us. We all go to bed.
It seems like an abrupt stop, I know.
And we're all still waiting.
Mike's Instagram post text:
6 1/2 days. 397 miles. 77,000 ft of climbing. Failure. Today's world redefines failure into vailed success in order to not face them and not learn from them. My biggest failure last week was putting friends through an awful, stressful, and damaging experience all in order to pad my own ego and have my name on a website. It is a mistake I will not repeat.
This is not an excuse, I was physically a mess and hadn't slept in days. When I got to the San Juan's I was so sleep deprived that the barren high country felt like a waking nightmare. Hip and back pain prevented me from catching anything but naps the last few days, and I was ruining the mountains that have been my sanctuary for the last 15 years.
I stopped caring about records. About accomplishments. About running. I called it as much for my own sake as everyone else's. The fact that I was causing others to suffer while also suffering seemed silly and I quit. The weight was heavy and I couldn't burden it.
Running is a pure life awakening endeavor until it is not. Suffering can be enlightening until it is not. Putting others through negative experiences to build yourself up is never excusable.
Here's to unsupported endeavors and not causing misery🤘🖖🤙
Words by Adam Voidoid
Photography by Moe Lauchert