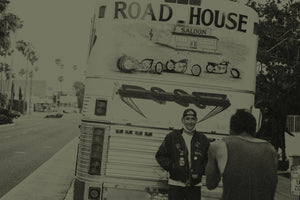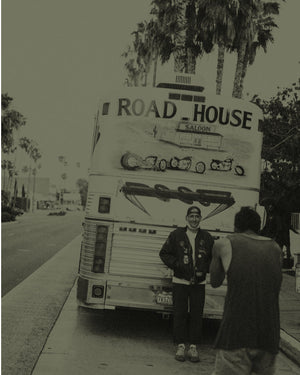 The Speed Project: backstage pass
This year for the sixth annual event of The Speed Project, a no rules relay race that starts in Santa Monica and ends in Las Vegas, Satisfy Running put together a dream team of runners to tackle this epic adventure. We may have not taken the gold but I'm proud of us and we definitely had the most fun, plus we'll be back next year for our crown. Adam Voidoid journaled it and you can read about what happened blow by blow in our new article The Speed Project Diary. And now that we've had a couple weeks to decompress and process everything we figured it was time to ask everyone who was there some questions. This is The Speed Project interviews!
The Runners:
Name: Aric Van Halen
Age: 31
Location: Pasadena, Ca
Total Miles Clock: 69
How did you train: I actually didn't do much training, I had signed up for the LA Marathon maybe 2 months ago, but my highest mileage week in the last year was probably close to 20-30miles. This was a super last minute addition to my calendar, but I was just glad my muscle memory kicked in and I was able to finish.
What did you eat on TSP: Smuckers uncrustables, Pepperoni Bagel Bites, Snickers Minis, Cliff Blocks, Pedialyte and Liquid Death were all coursing through my veins through the long journey.
Satisfy Desert Island Pick: Would have to go with the Death Valley Cross Country '89 Dynamic Running Hat. I love the color Burgundy, the fit is great, Death Valley Cross Country is such a cool/obscure reference and I was born in 89 so it all fits.
Favorite Inspirational Quote: In many ways, a race is analogous to life itself. Once it is over, it can not be re-created. All that is left are inpressions in the heart, and in the mind
- Chris Lear
Favorite Memory from TSP: There were alot of great moments throughout the trip, and some not so great moments. But the memory that sticks out in my mind the most is probably the last 10-20 miles. The whole squad, runners and crewmembers were piled into the sprinter van, Hakim was playing DJ in the front, and were just having a great time, ripping miles and getting closer and closer to the Vegas sign.
Name: Alex Dickinson
Age: 30
Location: Alpine, Wyoming
Total miles clocked: ~50
How did you train: Was coming off a 5k block, so a bit more speedwork than mileage, which is new for me. If I had to do it all over again I'd just do 10 miles twice a day with one speed session and one long run for a few weeks.
What did you eat on TSP: A lot of pb&j, fruit, weird little chickpea crisps, some rice bowls, and cereal was the one thing that sounded good when it got hot.
Satisfy desert island pick: Long Distance 2.5 inch shorts. Honestly the best I've ever worn.
Favorite inspirational quote: "I went to the woods because I wished to live deliberately, to front only the essential facts of life, and see if I could not learn what it had to teach, and not, when I came to die, discover that I had not lived."
-Thoreau
Favorite memory from TSP: The most rugged. Being out on a closed road with Brad in the middle of the night, swapping miles on foot and bike. Dust everywhere alien landscape mad max way out there style. Pure animal nature type running and it was beautiful. That was the highest I got on the trip.
Name: Lucie Beatrix
Age: 32
Location: Brooklyn
Total miles clocked: 51.54ish
How did you train: The four weeks leading up to TSP, I raced each week (mostly on the track.)
But my real "training" for TSP has been having the base over the years.
I usually log 2 harder effort days a week (track + tempo) and then run easy mile days in between. Coming from zero sports or athletic background, running is less about training for specific events and more just getting out there and having fun with it.
What did you eat on TSP: I ate 4 (or was it 5?) blocks of tofu, 4 sweet potatoes, 3 pints of Arctic Zero vegan ice cream, 3 bananas, 4 apples, a bag of almonds, a bag of grapes, some pears, and a few random things like Brad's (teammate) granola. Oh, and a flip ton of coconut water.
Satisfy desert island pick: the one strap top I wore at the start/finish.
Favorite inspirational quote: Just be fast.
Favorite memory from TSP: My favorite memory was at the finish line under the Vegas sign with everyone hugging and celebrating knowing we had done a big thing together and would remember it forever.
Name: Thai Richards
Age: 30
Location: Brooklyn, NY
Total miles clocked: 80
How did you train: My training consisted of boxing and track workouts.
What did you eat on TSP: Lots of veggies, rice, avocado, cookies, hella Liquid Death, huge gallon of seamoss with other herbs.
Satisfy desert island pick: My favorite pick would have to be the "Running cult" tank, it really stays cool.
Favorite inspirational quote: "Do what thou wilt shall be the whole of the law."
Favorite memory from TSP: Honestly the entire thing, it's all smashed into one long memory for me.
Name: Leigh Gerson
Age: Not your business
Location: Venice Beach
Total miles clocked: 65-70. Can't give you an exact number cause I don't wear a watch.
How did you train: Strength training 5 times a week, yoga & pilates & mobility 4-5 times a week, lots of cycling, 30 miles a week of running under less than ideal conditions at a very slow pace.
What did you eat on TSP: Popcorn, tofu cubes, avocado, cubes of gluten free bread from gjusta with 88 acres seed butter, Liquid Death with elemental labs flavored salt sticks, delicious french fries in the middle of day 2 and a sweet tea! I also made sure to eat my normal breakfast on both Friday and Saturday that consists of ground lupin beans, flax meal, hemp + chia seeds with adaptogens and beet root powder and tumeric as the base and topped with seed butter, bee pollen, raisins, sunflower and pumpkin seeds.
Satisfy desert island pick: Justice briefs #teamnotanlines.
Favorite inspirational quote: The faster you run, the sooner you're done. Kidding, my answer is "everything was beautiful and nothing hurt." It's more motivational than inspirational but Vonnegut seems appropriate here.
Favorite memory from TSP: What happens in Vegas, stays in Vegas. But really, all of it.
Name: Brad Popple
Age: 33
Location: Charlotte, NC
Total Miles Clocked: 80
How did you train: I had just finished Ultra Race of Champions 100k and days later Adam hit me up to join to the team. I had no plans of racing for a while. But there was no way in hell I was gonna turn this down. When he told me the lineup and who had on the road crew it was a wrap. I hadn't done a track workout in almost a year. I've been training for 100 milers. I had a good base from the Ultra season so I just need to find some speed. I did some 800 repeats and some descending pace workouts. Although, I don't use my speed as frequently as I use to, these wheels can still roll.
What did I eat on TSP: I contrast from so many other runners on the team on this. Everyone else had specific needs and restrictions. I'm mindful what goes into my body but I'll eat just about anything. If the furnace is hot enough it'll burn up anything. I also grew up a poor punk kid who dumpster dove for meals, so I'm not picky. In true poor man fashion Ramen Cup of Noodles, brought me life out there. Give me all the sodium you got.
Satisfy desert island pick: I'm typically shirtless and in split shorts. So for me the Long Distance short is the crown jewel of running shorts. I've been running 20+ years and these are the best shorts I have ever worn.
Favorite inspirational Quote: "When shit keeps piling up, get a shovel" Expire.
Favorite Memory from TSP: Heading into the first night. We reached a point where an accident had caused traffic to halt and our van couldn't continue for an unforeseen amount of time. So I hastily took on the task of running for an unknown distance, with no water, or gels and unsure of the route. Luckily, Alex caught me on the Mountain Bike a few miles later. he and I took on an extremely Sandy section with poor visibility. The blood moon had risen fully and washed what little we could see in a deep haze. Aimlessly, we took our best guess at the route. 2 road crew members (Moe and Remi)arrived on additional bikes to help with the route but Remi with no headlamp and much biking experience struggled to maintain. Alex elected to bike with Remi while I would take on the rest of the leg with Moe biking beside me. It was the toughest section physically I had been without aid for hours and the miles of the day compiled into stabbing cramps. But it's these dark moments that push you to your limits you find a little bit more about yourself. It's these moments I chase in my running. It's the moments I've been chasing my whole life. And there under a blood moon, in the middle of the desert, with vomit on my shirt, I found a bit of myself. Those moments with Alex, Moe, and Remi will stay with me forever. Been pushed to the edge and climbing back is thrilling. Running is and will always be a personal adventure for those of decide to take it on and that's exactly what I found out there.
The Crew:
Name: you already know (Remi Alade-Chester)
Age: 31
Location: The road
Total miles clocked: 200 or so miles of driving
How did you train: Driving up and across the country.
What did you eat on TSP: espresso, Liquid Death, granola bars, M&M's and some fries.
Satisfy desert island pick: Possessed socks.
Favorite inspirational quote: "May the dust never settle."
Favorite memory from TSP: All of it, it was part of what motivated me to stay up the entire time. I wanted to see and experience all the emotions, trials and tribulations that came with the journey.
Name: Moe Lauchert
Age: 29
Location: Salt Lake City, Utah
Total Miles Clocked: Approx 50 miles via mountain bike pacing, shooting stills, and pack muling.
How did you train: Just riding bikes
What did you eat on TSP: OJ, hummus, pretzel buns, figs, ham, and sparkling water
Satisfy Desert Island Pick: Satisfy Merch Tee in Tofu color.
Favorite Inspirational Quote:
"Fight on, my men, Sir Andrew said,
A little I am hurt but not yet slain,
I'll just lie down and bleed awhile,
And I'll rise and fight again."
- Unknown Poet
Favorite memory from TSP: Riding a mountain bike via moonlight and in deep fine gravel to catch up with Brad and see him finish his leg in Harvard.
Name: Hakim Tafari
Age: 47 years old
Location: LA
Total miles clocked: 0 miles /1 leg
How did you train: Lots of running and meditation and of course Tai Qi.
What did you eat on TSP: I didn't eat shit except Himalayan sea salt popcorn and rando chips and a whole lot of Liquid Death.
Satisfy desert island pick: Long distance 3 inch shorts.
Favorite inspirational quote: Teach this triple truth to all: A generous heart, kind speech, and a life of service and compassion are the things which renew humanity.
- Buddha
Favorite memory from TSP: The last 3/4 hrs of the adventure where all of the team where in the sprinter van together, not giving a fuck having fun and each one of the runners choosing music as their backdrops to run too and of course getting to run a leg with my twin in this run shit Leigh Gerson @gersonperson which was truly priceless.
Name: Adam Talan
Age: 29
Location: Topanga
Total miles clocked: The party never stopped
How did you train: Long nights of intimate conversation.
What did you eat on TSP: Pretzel chips with garlic hummus, Swedish Fish, coconut water, mezcal and Bud Light.
Satisfy desert island pick: Other Adam, 2 Adams are more powerful than 1.
Favorite inspirational quote: "it's an ultra not a dick, don't take it so hard."
- Ghandi
Favorite memory from TSP: I retyped this 4 times trying to pick a moment. This event is pretty much a 2 day wet T-shirt contest, how could you expect me to pick one memory!?!
Name: Travis Keller
Age: 43
Location: East Los Angeles - Boyle Heights, CA
Total miles clocked: Not sure on the numbers but I've never forget doing any of it.
How did you train: I ran until I was tired everyday, usually 5-8 miles.
What did you eat on TSP: Liquid Death, granola bars, Snickers, M&M's, bananas, sloppy eggs in Shoshone, mad ganja and a steady drip of caffeine.
Satisfy desert island pick: That's easy, the Long Distance 2.5" shorts. I live in them now and they are the correct length for Men's shorts in 2021.
Favorite inspirational quote: "Sometimes you gotta piss in the sink."
- Charles Bukowski
Favorite memory from TSP: The whole damn thing honestly, everyday felt like it was a week long. I'm still unpacking memories from this adventure. And explaining it to anyone who wasn't there is still borderline impossible for me, I just lead with "sleep deprivation and exercise are definitely the new drugs." But for real I'm just so proud of us all, how we just formed like Voltron. Most of us were relatively strangers at the beginning of all this, to me it really felt like the first day of High School meeting everyone, but as the journey got underway all of that nervousness and uncomfortability quickly washed away and we all came together for one common goal. It was really fucking beautiful. For someone who only started running seriously about six months ago it really felt like some Make-A-Wish Foundation shit for me being able to be out there with all of these legends and even get to pace some legs with em. This is a space I never saw myself in, so I'm extremely grateful that the fine folks at Satisfy Running did cuz I couldn't be more proud to be a part of something. I really love everyone involved in this and that's my favorite part.
Name: Adam Voidoid
Age: 31
Location: Seattle, WA
Total miles clocked: I don't think anyone cares about the mileage I racked up.
How did you train: Praying for flow.
What did you eat on TSP: Snickers, chips, Wildbrine beet kraut, some cold cuts, and one hot meal consisting of a biscuit, two sunny-side up eggs, bacon and hash browns.
Satisfy desert island pick: Long Distance 2.5" Shorts — the greatest piece of running kit ever created.
Favorite inspirational quote: "In the World through which I travel, I am endlessly creating myself."
- Frantz Fanon
Favorite memory from TSP: I guess my favorite memory is a combination of how ridiculous it was to organize it all just weeks before it happened, and then seeing all the pieces unfold before my eyes (and as a part of it) so much more beautifully than I could have ever imagined or planned. The fact that we were able to bring together some of my favorite people in the world for such an outrageous endeavor is still beyond me.
As far as particular moments go, I will never forget the hellish night spent on that 37-mile leg on machine-gun-ground territory, everyone gripping onto something stable in the sprinter, bouncing around for dear life, digging it out of deep sand for half an hour, Remi only barely escaping death while swerving around the most narrow cliff section with Travis below ready to catch a whole ass vehicle to the face, everyone finally reaching their spiritual breaking point and cursing the event swearing to never come back, and then the sunrise that also lifted the spirits of the group who thereafter swore to come back and do it all again next year. The mind is an incredible thing and even more incredible in incredible people.
Collaborative playlist on Spotify and Apple Music