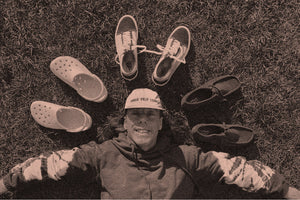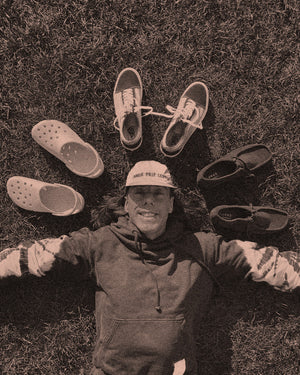 thru the ringer: non-running shoes test by Samutaro
At Possessed Magazine we feel that sometimes it's important to go against the grain to get to the truth. In an attempt to explore the fringes, we have taken it upon ourselves to investigate the polar opposite of the new wave of super shoes and find out which of these non-running shoes are the best of the worst to run in. We asked our homie Samutaro to get scientific and put these three culturally significant sneakers... THRU THE RINGER.
Vans Old Skool
When it comes to Vans, no sneaker has hit the cultural zeitgeist quite like the Vans Old Skool. While the sneaker was initially designed as a skate shoe, it's gone on transcend its roots in empty So-Cal pools to become one of the most universal sneakers worn by everyone from Kendall Jenner to Kanye West. Debuted under the name "Style 36" back in 1977, the style was the successor to the Vans Authentic. Arriving 11 years after the OG, the new design incorporated a number of upgrades like lacing and leather panels for enhanced durability, notably the silhouette's suede toe. One of the main design features was the signature "jazz stripe" - a motif that has now become the hallmark of the Vans brand. The sneaker was released in 3 colorways, with royal blue worn by legendary Z-Boy and Powell Peralta founder, Stacy Peralta. Given the sneakers' sporting roots, it's unsurprising that novice runners have been making it an option for recreational runs. In fact, it was seeing people in this sneaker running in Paris that inspired the idea of doing this challenge. It's definitely a good contender for top spot.
Crocs
There are few shoes as divisive as the Croc. The foam clog has been polarizing popular opinion and taste levels for years and still does today, despite its recent spike in popularity during the pandemic. Known more as a practical staple amongst chefs and nurses than a shoe of style, the perforated slip-on became one of the most unexpected trends of the decade in 2020 — not bad for a squishy orthopedic shoe that Time magazine once included in a line-up of the 50 worst inventions. I did some research on running in Crocs and found out that there was a kid from America who ran a half marathon in a pair of Crocs, running it in 1:11:53. The runner also claimed he could get up to 3000 miles out of a pair before they wore out. This one is definitely the red herring of the group but if they work out I might need to reconsider switching out my Vaporflys.
Clarks Wallabees
It's hard to imagine that a shoe designed in the middle of England's countryside would become a cultural icon that would touch music subcultures around the globe. But this is what Clarks achieved when they put out their Wallabee shoe in 1967. For the past 50+ years, the suede shoe has been adopted and reappropriated by everyone from mods, rockers and rude boys, to ravers and rappers. Having been name dropped in the lyrics of artists like Vybz Kartel, Wu-Tang and MF DOOM — and worn by so many diverse subcultures — it's no surprise that this is a style that won the world over. The shoe is defined by its suede upper and crepe sole, a feature that is said to give off so little to no noise, that it became a favorite amongst young Jamaican criminals. It was this crepe sole that earned Clarks sister shoe, the Desert Trek, the nickname 'The Bankrobber.' I'm hopeful this will give me some edge on the track.
Review
Vans Old Skool: 6/10. Very stiff and fall flat so there is little absorption on impact, which made my running inefficient and strained my joints. Whilst doing the lap, it made me think how people probably ran in something similar to this type of sneaker back in the 70s. They had it rough. I couldn't imagine running anything longer than 3K in these bad boys without getting swamp foot immediately.
Crocs: 8/10. Insanely comfortable and very good cushioning. I was very surprised how good these felt and I could feel a much more natural stride compared to the Vans and they felt faster. There was no slippage on the back with the strap and they felt super light. You even get a cool breeze in your feet thanks to the perforated toe box. I had previously laughed about running in these at one of my local run club sessions but now I would actually seriously consider it. I can see the appeal the Pachev family have with them!
Clarks Wallabees: Solid 5/10. I was so stealthy running in these that the other runners on the track didn't even hear me creeping up behind them. That's until I passed and they wondered why the hell I was running in a pair of suede shoes on a dusty running track. The shoes have a very narrow sole compared to the body of the shoe, which definitely gave me anxiety about turning my ankle and putting myself out all for the sake of this challenge. These aren't bad if you need to run to catch a bus or rob a bank, but I'd definitely leave them off the track.
Samutaro is an IG page that sits at the intersection of fashion, art and pop culture. More than an online mood board, the page inspires and educates through compelling narratives that draw the lines between past, present and future.
Video by inneswoo