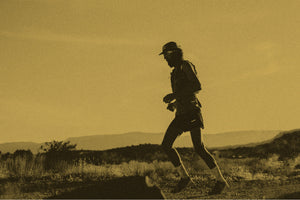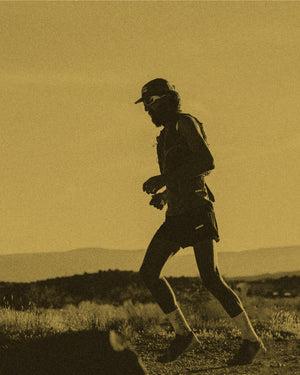 the Cocodona Chronicles
After a day and a half of shooting and preparing provisions, we packed up Mike's sprinter van and our rental car and drove from his home in the Granite Dells down to Black Canyon City to check-in for the Cocodona 250. After he grabbed his bib and race package, we walked the first mile or so of the course together, capturing some images of Mike in his DIY Running Cult Member crop top amongst the saguaros and the heat, familiarizing ourselves a bit with a tiny fraction of the terrain he would traverse in the pitch dark of the following morning. We parked our cars in a little nook of the massive dirt lot at the start of the race and hung out until about 10pm, before we decided we should try our best to get some sleep before our 3:30am alarms.
Mike slid the door of the van open where we were sleeping before any of our alarms went off and woke us up with an enthusiastic good morning. The plan was for us to boil some water to brew a pot of French press coffee to have ready for him but he beat us to the chase. In an attempt to be useful, Adam grabbed the pot and poured him some coffee. The energy of pre-race dawn quickly washed away the collective lack of sleep and we all hopped into position to do whatever we could to help Mike prepare for the incomprehensible distance. His partner Maddi took to making sure he was feeling as good as he could while Adam, Travis and Moe helped throw together any things he might need in his vest or for the first leg of the race. Mike punished a day-old burrito, made all of his necessary gear and wardrobe changes, grabbed a mask, and hit the starting line mere seconds before Wave 1 set off.
The next crew accessible aid station wasn't until mile 37 at Crown King. Although it was only about a 40 mile drive from the Black Canyon starting line, because 30 miles of this was on a pretty gnarly OHV-esque road, it would take an hour and a half to get there. We left the sprinter in the dirt lot and packed what we needed for ourselves and crewing Mike into the rental car.
The ascent to Crown King was stunning in the early morning light. But the only thing we could think about as we climbed the road to the unincorporated town was the fact that Mike would have to climb all of this on foot. He told us he thought he'd be there by 11am, but after experiencing the climb just from the vehicle, we weren't so sure about that. We parked off to the side of Crown King Saloon near an empty airbnb at about 7:30am.
11am rolled around and the live tracker showed Mike and another running duking it out for the lead to Crown King. But they were still quite a ways away. A buzz was building of people guesstimating his arrival time. It seemed every 30 minutes, someone would say he'd be there in 30 minutes. It was about 1:40pm when Mike took a seat at the aid station. His reputation as "The Whiskey Runner" made it so a shot somehow materialized in his hand. To his mother's dismay, he knocked it back then repacked his vest and shuffled out.
We saw him at the next crew-accessible aid station at mile 71, Wamatochik, in the heart of night. Our rental got a flat tire on the way back to picking up the sprinter so we spent the interim time tending to that, praying we'd make it to Wamatochik in time. Mike's friends we'd spent a night with at a local watering hole in Prescott rendezvoused with us there and helped us ready some hot food for his arrival. He would later say this first 71 miles was the most brutal part of the course, and it showed a bit in his face and spirit as he rolled into Wamatochik. It was never part of the plan, but it became clear that pacers would be of immense help. So Larz would take the next 9 mile section, while Jim would take the following 13.8, and then Adam would hop in for the 18.6 miles from Iron King to the top of Mingus Mountain.
Larz set off into the dark with Mike from Wamatochik. From this point forward, whether or not he knew it, Moe would add 'designated sprinter driver' to his domain. Before posting up at Whiskey Row, we scooped some burgers from In-N-Out to have ready for Mike and for some fuel for Adam for his 18.8 mile stretch from Iron King to the top of Mingus Mountain.
Mike arrived at Whiskey Row in high spirits, where Travis captured that gem of a speech about linking with the Suns and Chris Paul if he were to win. You would never have guessed he had just run 80 miles. Adam signed the necessary paperwork to obtain his pacer bib and, after knocking back a shot of whiskey, Jim and Mike set off toward Iron King.
We arrived at Iron King at 12:30am—a construction lot with an aid station tent and porta-potty. Because none of us had slept at all yet, we turned off the sprinter and tried to close our eyes until Mike and Jim made it to us. It was about 3:30am when they rolled through. We all woke up feeling drunk with exhaustion from the tease of a sleep we had just entered, but quickly arose to tend to Mike. Adam geared up for pacing, and Mike got into the sprinter bed next to him to try and catch a little sleep. After a very unsuccessful 10-minute attempt at a nap, Adam grabbed some NesCafe for them, they put on their headlamps, and started off toward Fain Ranch.
On their run from Iron King to Fain Ranch, Mike and Adam observed the colorful transition from dark to light over the mountains on the horizon. The aid station tent at Fain Ranch glowed like a lantern at a lantern festival in the blue radiance of early morning. Mike sat down by the fire and ate a Double-Double while Adam crushed as many slices of watermelon as the volunteers would let him before they set off for their climb up Mingus Mountain.
Mike tried to minimize his time at the Mingus aid station in an effort to beat the heat as much as he could on the super hot and exposed sections leading to and out of Jerome. The goal was to get to Dead Horse (22.1 miles from Mingus) as efficiently as possible and to sleep through the hottest part of the day there.
The town of Jerome had strict no photo rules in place, so we couldn't capture any images there. Maddi spent some time tending to his feet and legs while we prepared his kit for the next 9 mile leg to Dead Horse. Although Mike protested and didn't want to put anyone through suffering in that heat with him, Larz insisted and geared up to carry out the journey to Dead Horse.
Mike rolled into Dead Horse a little bit before 2:30pm and told us to wake him up at 4. During this time, the second place runner caught up and took the lead. However, with over 100 miles yet to run, it was still anyone's race. Mike woke up from his nap feeling (relatively) refreshed, and he and Jim headed out for the 10.2 mile stretch to Deer Pass.
Mike's dog Dio greeted him at Deer Pass with intense enthusiasm. Jim greeted a beer with the same enthusiasm. Mike had taken back the lead during this stretch and was in high spirits. Mike's friend James came from Flagstaff to join our crew and he, Adam and Larz deliberated on how to split up the pacing from here on out. Ultimately, Larz would hop back in here for the 15.7 miles to Sedona, and Adam would take the 20.9 miles from Sedona to Black Tank.
Larz and Mike got to Sedona close to midnight. Mike tried to sleep for 10 minutes to no avail, so he and Adam left at 12:15. The leg to the non-crew-accessible aid station between Sedona and Black Tank was like running through a fever dream. The leg from Huntley to Black Tank turned into OHV-road, and both Mike and Adam had never been so excited to run on road.
James picked up from Black Tank for the 23.3 mile stretch to Cinder Pit. When they arrived at Cinder Pit, Mike went to the aid station and asked if anyone had experience with PT or massage and, as if by destiny, an old friend of his, Miguel, was there and able to provide.
Cinder Pit was the most beautiful of all the aid stations. Situated away from any noise pollution and immersed in Ponderosa pines, the air was serene and intertwined with an intoxicating aroma. We spent time placing our noses deep into the grooves of the Ponderosa bark, seeing whether each of us smelled strawberry, vanilla or chocolate. Apparently, depending on person and tree, the scent can be classified into that Neapolitan spectrum.
We packed some pizza from the day before into ziplock bags for Mike and Jim to stash in their packs and they set off on the 14.3 mile stretch to Fort Tuthill. We debated just staying at Cinder Pit for awhile because it was so nice but ultimately decided to drive to the next aid station.
It was still light out when they arrived at Fort Tuthill. James would step in to relieve Jim and pace Mike until the finish. Mike did a quick wardrobe change, throwing on an LSD singlet — and I'd never seen a more appropriate context for that garment. None of us had showered since we arrived in Arizona, so we decided to rent a hotel room nearby in Flagstaff for us and a separate one to surprise Mike with after he finished. It was 16 miles until the next access point, so we had time to check-in, have a shower and dinner, and get to the next aid station in time.
It was dark when we arrived at Walnut Canyon. We saw Mike and James briefly here, before they set back off into the night. The next time we would see them wouldn't be until the finish, which was 21.1 miles from here, so we had time to get a quick sleep at the hotel.
Throughout the entire race, Mike maintained an unwavering calm and tenacity tinged with a sense of humor. Seeing him cross the finish was almost anti-climactic because of how casually he did it. But we all knew that we had just witnessed one of the most incredible things we would ever see a human being accomplish. His mother was there to greet him with the love and stoke he deserved. After answering questions for the cameras with eloquence and poise, we told him we had a room waiting for him waiting and his face lit up. He asked if there was a hot tub there. There was.