Whether your cold runs consist of cool breezy coastal conditions or harsh frozen tundra, dressing for the cold can be challenging. However, running in cold can not only keep you focused on your training, it can be an enchanting way to explore the spaces around you in a new light.

Dressing successfully for the cold is not only predicated on the right pieces but also the proper layering of those pieces. Here we will discuss how to properly dress for all cool temperatures. From COOL weather in the 40*F-50*F/4.4*C-10*C, to COLDER temps ranging from 30*F‑40*F/-1*C-4.4*C, as well as HARSH conditions 0*F‑30*F/-18*C -1*C.
COOL
Transitioning from summer to autumn can be an enthralling time of the year to run. The dog days of summer have found their way home and the first taste of cold air burns like whiskey. Familiar landscapes begin to take on their yearly evolution. Some landscapes' lush greens begin their slow dive into deep ambers and golds canvasing the world around you. An exciting time, yet a time where what you wear becomes more of a necessity.

For these temperatures ranging from 40*F-50*F/4.4*C-10*C some key pieces include starting with a base layer or light long sleeve like our AuraLite™ Long Tee or CloudMerino™ Long Tee, You may also find having more coverage on your lower half and trading in shorter shorts for something with a bit more protection like the TechSilk™ 5" or 8". These shorts all come sweatproof pockets and secure storage for your essentials.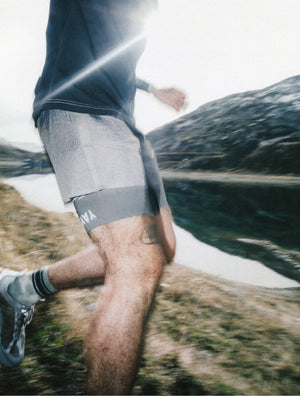 COLDER
As temperatures plumet further into COLDER conditions (30*F-40*/ -1*C-4.4*C), now is the time to master the art of layering. The secret to proper layering is wearing the right pieces in the right order. To start, the base layer is key. This should be a piece more form fitting with high rate of moisture control to pull sweat from the skin like our CoffeeThermal™ or CloudMerino™ base layers. The top layer should contain a heavier hand and potential liner. A key feature in these temperatures is a zipped collar featured in pieces such as our GhostFleece™ Half-Zip or SoftCell™ Half-Zip. This can help retain body heat at the start of your run but manage the warmth as you continue. Approaching the bottoms, you should be considering a longer lined short or a full tight. Pieces like TechSilk™ 8" or CoffeeThermal™ 8" offer additional coverage and have unique features to allow users to carry essential items such as phone, keys, and nutrition. If shorts are not enough for this temperature range. Full tights or pants like the Justice™ Tight or Justice™ Pant offer a great resolution. These can also be used in a variety of conditions by accompanying additional layers above the tights or added tights under the pants.

Due note, it is at these temperatures that accessories become a necessity. Since we lose most of our body heat through our head and hands, it is recommended to have ample coverage. Whether that is a traditional running cap, like our PeaceShell™ Cap, or our CloudMerino™ Beanie, having your head protected will ensure key protection in these elements. Also, ensuring you are equipped with a suitable glove. Gloves such as the CloudMerino™ Glove will provide ample protection while still allowing easy access to touch screen technologies.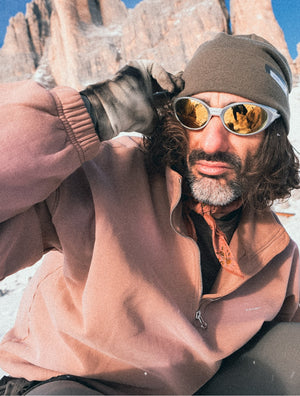 HARSH
For those truly HARSH days where air itself keeps most creatures nestled in warm homes (0*F-30*F/ -18*C -1*C). Your usual landscape may be replaced by blankets of powder or ice. These really cold days offer a unique experience on the run. A notable silence can be felt. Snow can dampen any added noise and only the truly ambitious or adventurous are out.

It is in these conditions one can truly find the essence of what running can offer, a run filled with peace and silence. Being prepared to venture in these temperatures is not just key but vital. It is in these conditions you will want to ensure you have quality socks to prevent loss of body heat. Socks such as the Merino Tube sock will manage heat and wick moisture prevent hypothermia. Working up the body, your tights should now be lined. Pieces such as the Justice™ Merino Pant or CoffeeThermal™ Tight will not only provide added protection they will allow you to keep items on you such as your phone, keys, or any other essentials.

Along with a proper base layer and second layer, it is at these temperatures you want to ensure you have a quality Shell jacket to prevent cold air from hitting your chest. Pieces like the SilverShell™ Packable Windbreaker or Justice™ Merino Jacket will block cold air from hitting the body while still utilizing a heat management system. This will ensure you stay at an ideal body temperature. Along with gloves, one most cover the ears in these conditions. The CloudMerino™ Beanie is a staple piece. However, if looking for something with touch more coverage and technology the FliteSilk™ and PeaceShell™ Sherpa Caps offer the protection of a cap while lined earflaps cover the ears.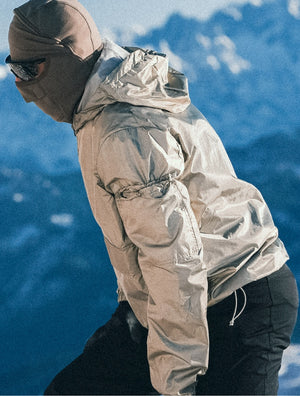 The world around us is intended to be respected and explored. Running in colder conditions can not only offer new experiences in familiar settings, it can create a deeper appreciation for your run. Paces seem to matter less, if at all. The world around us seems to slow and excess sounds cease. There are opportunities in these moments to examine ourselves and our spaces. With proper gear and knowledge, you do not need to let the conditions dictate your adventure.